(via Carbon)
I wasn't sure about which way to go with this Digital Artefact.  I've done a few DIGC subjects previously, but always taken the easier routes of doing essays or videos.  But it's my very last semester, so I wanted to create something a bit more involved/ challenging.
The 'Future Cultures' concept could go so many ways, so I wasn't quite sure where to look for inspiration.  Then an Instagram post caught my attention.  It was a photo set from Adidas' VP & Creative Director Marc Dolce.  The post contained a few archive Adidas models in a monochromatic colourway, but one thing stood out.  Each of the shoes had their soles re-done using the 'Futurecraft 4D' technology that the Three Stripes is developing with Silicon Valley-based 3D-printing company Carbon.
The 'Futurecraft' tech has been knocking around for a few years now, with limited releases here and there, but what drew me in was the application to existing styles rather than new silhouettes.

(Adidas' original 3D printed sneaker via HighSnob)
Now, Adidas aren't the only ones looking at 3D printing as the future of footwear.  All the major brands have spoken about implementing the process going forward.  Under Armour and New Balance have also released models incorporating 3D printing, however it is Adidas that really has the market excited.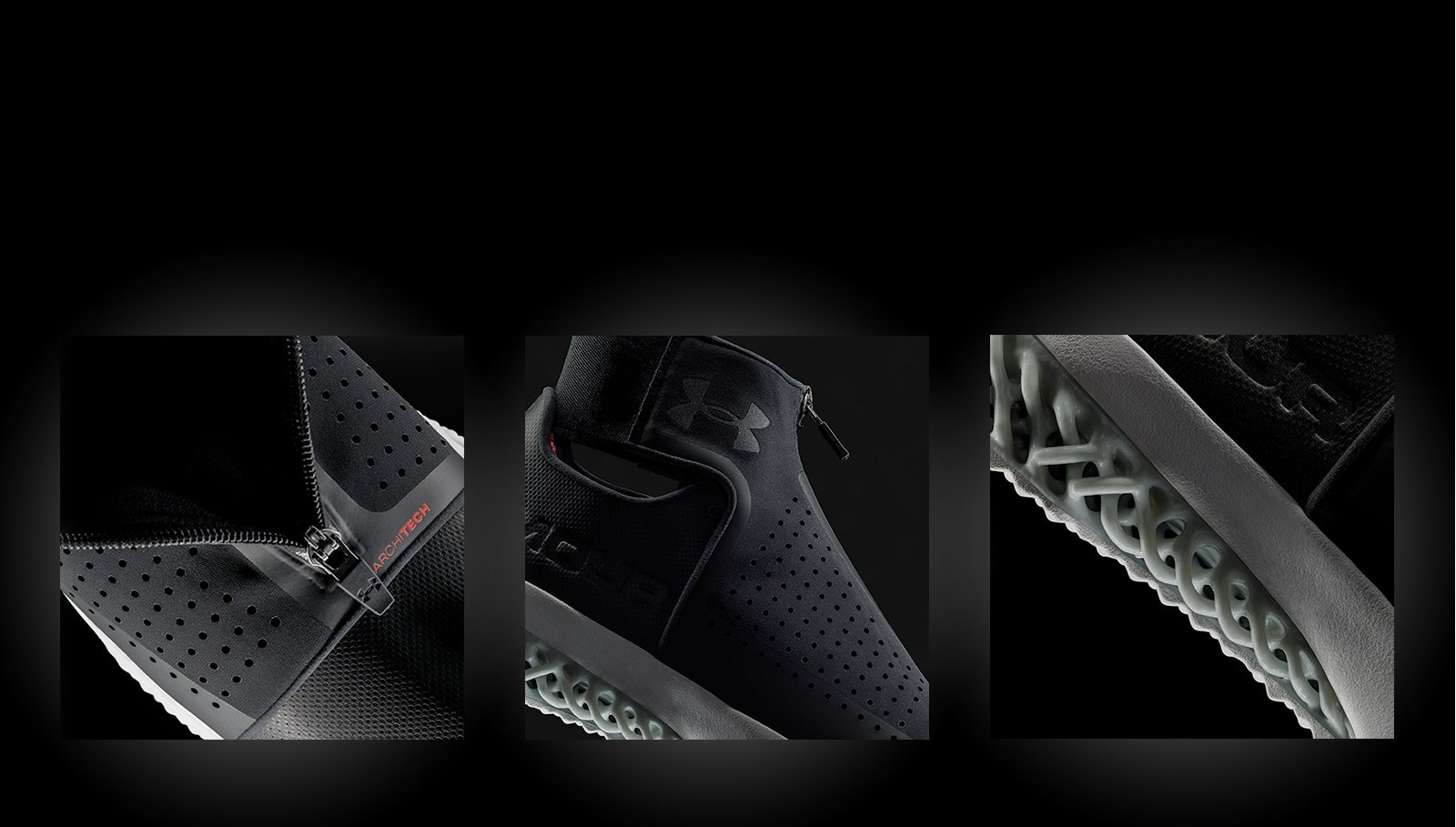 (via Under Armour)

(via Dezeen)
The futures applications for 3D printed footwear is incredible.  Just imagine going into a store, walking on one of those test things they have in The Athletes Foot, they take some measurements, and then print you custom footwear.  Shoes that are specifically made for you in every way.  It is insane.
Brand like SOLS are already sending selling 3D printed insoles, which must be a massive innovation in the Podiatry industry.  But that's just one small element of the shoe.
The big problem with Adidas' innovations in the 3D printing field is that I hate Adidas with a passion.  I understand that brand loyalty is silly and people should just buy the most impactful/efficient/effective products on the market, but I'm a Nike man.
So, because I don't want to support those Bavarian bastards by buying their 3D printed shoes but I reeeeeeeeally want a pair, I'll have to design and print my own.
The other week, Chris was speaking about the fact that we use things like shoes or glasses or phones or hearing aids makes us cyborgs.  I guess in that context it isn't something that I had ever really considered.  But they are obviously items that innovate and extend the human body and mind.  So I think that is the something to investigate deeper.  We will no doubt be wearing some form of footwear a long way into the future, so how can we do it with the most personalisation and least waste.
As for the 3D printing my own shoes part.  There are some things that I'll need to consider;
For obvious reasons it won't be the whole shoe (duh), but the midsole.
I'll be learning to model using the CAD tool Blender as it seems to be the most widely used free software (and because there are a tonne of videos and tutorial posts about how to navigate your way around the process).
This will be modelled from some initial sketches I'll do. Not quite sure on a certain style of sole to design, but I guess something with a more contemporary edge.
As someone with very little interest in maths or engineering I'll have to navigate my way the physics of a 3D printed sole. Where do I reinforce?  How do I combat rolling?  How do I maintain flexibility while maintaining support?
I want to live in a future where the shoes I obsess over can be custom tuned to my specifications.  It is a process that I want to see become commercially viable on a grand-scale, and I know that it is edging closer to that every single day.
As I said, it's my last semester so I think it would be wise to explore something that I'm passionate about through a process I'm not comfortable with.  I also want to make use of that Maker Space that we've all paid for.